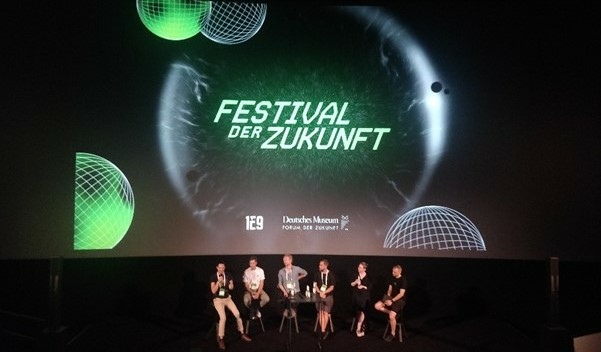 An event focused on the Regenerative Economy
Recently, Franz Josef Allmayer, Council Member at Hypha DAO, was invited to participate in a lively panel discussion on 'Balancing planets, people and profits: Let's strive for a regenerative economy!' at the 'Festival der Zukunft' (Festival of the Future) in Munich. He was joined by Bennet Barth, managing director of RESPOND Accelerator of the BMW foundation, Philippe Birker from Climate Farmers, who's supporting regenerative farmers in Europe, Fridtjof Detzner, who founded the impact VC Planet A, and Eva Kirschsieper, who is leading the impact department at Meta (formerly Facebook).
They discussed fundamental problems: How can our economic system, which has long been based on the exploitation of non-renewable resources, be changed into a sustainable system? How can a regenerative economy emerge within — or despite — a growth economy?
In-tune with Hypha DAO's purpose
This event was a perfect opportunity for Hypha DAO to exchange with like minded leaders on contributing to a regenerative economy. Hypha DAO is a Decentralized Autonomous Organization Builder, pioneering a financial ecosystem and digital currency designed to consolidate the various movements, organizations and platforms striving towards empowering humanity & regenerating the earth's biosphere. It leverages gamification and tokenization based on blockchain technology towards a sustainable consumption mindset shift. You can find out more about Hypha HERE.
Franz Josef Allmayer, commented "So great to see many familiar faces and meet new contributors to the emerging regen economy at the 1E9 gathering in Munich. Central to Hypha's purpose, this gathering provided the opportunity to showcase the importance of the regenerative economy to collectively resolve the pantheon of wicked problems we as humanity are confronted with. Special thanks to the RESPOND Accelerator and BMW Foundation Herbert Quandt for the invitation to contribute to this great gathering."
The event brought together entrepreneurs, scientists, artists, politicians, students, corporates, and the public to discuss current topics. These ranged from AI, quantum computers and robotics, space and mobility, Web3 and the metaverse to sustainability, system transformation and climate protection.
#DAO #Web3 #daomaker #regeneration #sustainability #responsibleinnovation #responsibleleadership #GlobalGoals #2030Agenda #Innovation #Entreprenuership #HowWillYouRespond #RegenerativeEconomy #RESPOND2022 #Cohort2022 #Accelerator #Startups #Entrepreneurs #Founders #SystemicImpact #SystemicChange #Leaders #Impact #Community #SDGs #RESPONDAccelerator #CollaborativeSpace #SustainableTransformation
Website: https://hypha.earth/
Contact Hypha DAO: https://discord.com/invite/Gx3rmYfjaV