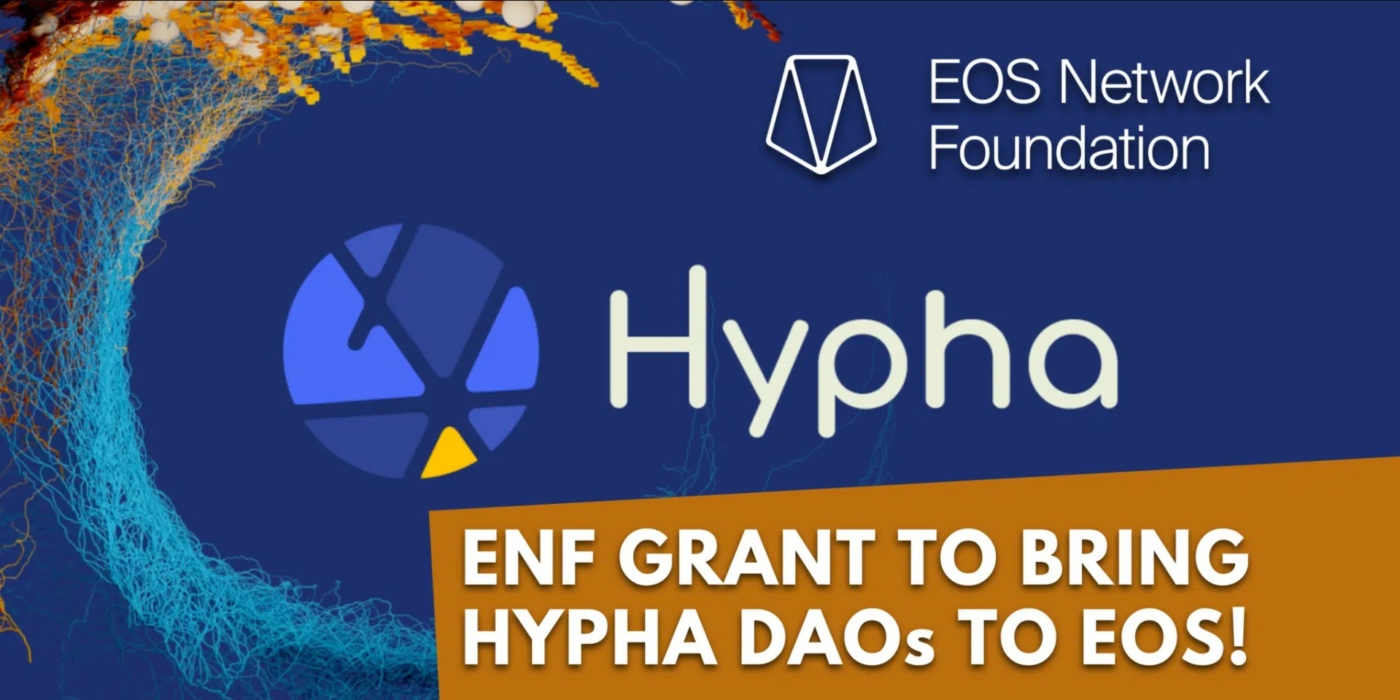 Hypha DAO welcomes EOS Network Foundation's grant of $850k USD, which recognises the tremendous potential of Hypha DAO's 'Organization-in-a-box solution', one of the most comprehensive tried & tested DAO solutions available today. This grant will help fuel a powerful roadmap of new advanced features and bring DAO tools to the EOS Community.
Alex Prate, Member of the Hypha Council, commented "The whole Hypha team is delighted & thankful to have gained the trust & funding of such a major Blockchain organization as the EOS Network Foundation. It will dramatically catapult the development of valuable & innovative DAO features for our customers." 
Benefits of Hypha's 'Organization-in-a-box' 
Hypha DAO provides all the key building blocks to create a new low barrier way for groups, communities, start-ups and organizations, to effectively and rapidly organize, govern, manage capital, compensate, and coordinate together to achieve their goals in a transparent, structured, fraud resistant, scalable and decentralized way based on blockchain technology. 
Beyond launching individual DAOs, Hypha enables the creation of large interconnected ecosystems of DAOs to bring to life a new form of human coordination for large-scale impact around the globe. 
EOS Ecosystem
The introduction of Hypha's "Organization-in-a-box solution" will serve as a major catalyst within the EOS Ecosystem. It will enable all manner of organizations to take the leap into new modes of cooperation and self-governance that would otherwise be inaccessible, chaotic, and challenging.
EOS members will gain access to Hypha's DAO solution via a range of attractive price plans including a freemium option, to start their own DAO journeys.
With EOS as an efficient, scalable, battle tested layer-one blockchain, and Hypha, a truly inspired team building decentralized tools to help the world work 100% for humanity, it's not hard to imagine an explosion of decentralized exponential growth within the entire EOS Network, and beyond.
Yves La Rose, Chief Executive Officer @ EOS Foundation, added "It's not easy for the average person to start a DAO. Starting a DAO should be as easy as creating a Facebook group or Discord chat! This partnership will make that a reality on EOS, by offering the most user-friendly DAO experience in the entire crypto industry."
– – – – – – 
Hypha DAO
Hypha is a globally decentralized team that originally set out to build a regenerative economic system using the SEEDS currency, which we deployed on Telos. Our own needs led us to develop the tools necessary for effectively organizing, rewarding, and governing our community. For the last three and a half years Hypha has been developing a suite of tools, our 'Organization-in-a-box' solution, to facilitate building new economic and governance systems for humanity.
To learn more about Hypha DAO, visit https://hypha.earth/   
Partnership / funding contact:  hello@hypha.earth  
Media contact: media@hypha.earth   
– – – – – –
EOS Network
The EOS Network is a 3rd generation blockchain platform powered by the EOS VM, a low-latency, highly performant, and extensible WebAssembly engine for deterministic execution of near feeless transactions; purpose-built for enabling optimal web3 user and developer experiences. EOS is the flagship blockchain and financial center of the Antelope framework, serving as the driving force behind multi-chain collaboration and public goods funding for tools and infrastructure through the EOS Network Foundation (ENF).
EOS Network Foundation
The EOS Network Foundation (ENF) is a not-for-profit organization that coordinates financial and non-financial support to encourage the growth and development of the EOS Network. The ENF is the hub of the EOS Network, harnessing the power of decentralization as a force for positive global change to chart a coordinated future for EOS. (https://eosnetwork.com/ )