Hypha and EARTHwise Centre are hosting a free webinar on July 26 from 9:00-10:30 am Pacific Time to present Hypha's DAO tools and how EARTHwise DAO is using them to develop and deploy their new EARTHwise Game for Civilizational Transformation. Sign up to attend here and register today for Hypha's Beta Launch here.
Earlier this year, EARTHwise Centre created their EARTHwise DAO on Hypha's DAO platform to develop and deploy the EARTHwise Game for Civilizational Transformation. In this article, we'll take you behind the scenes of this exciting new venture and reveal its incredible potential for the future of DAOs in the Hypha Network and beyond.
EARTHwise Centre is a nonprofit company based in Mauritius. Hypha recently interviewed the Founder and CEO, Dr. Anneloes Smitsman, about their choice of Hypha as their lead technical partner for the DAO component of their game development.
"With over 3 billion video gamers worldwide, we have a tremendous opportunity to harness the power of gaming to create positive impact and solve the big challenges of our time. Our planet faces critical tipping points, and the need for collective action has never been greater." — Dr. Anneloes Smitsman
The EARTHwise Game is designed as an open-world immersive action game to empower the millions of people who want to make a difference with the tools, incentives, and transformative solutions for doing so—while having fun!
The game offers real-world challenges, mind-shifting quests, and social communities for taking on the greatest challenges of our time together. Players can create collaborative solutions through web3 GameFi economies, innovation tools and studios, immersive storytelling, and world simulations. The game aims to combine humanity's collective intelligence with ethical AI for solving complex problems and catalyzing civilizational transformation.
The game's storyline unfolds as an epic adventure to shift the tragic grip of "Moloch game dynamics" that drive civilizations to collapse. Moloch, an ancient Canaanite god who thrived on child sacrifices, symbolizes the self-destructive behaviors of mainstream systems and institutions that sacrifice long-term collective wellbeing for short-term personal gain. In the game, Moloch's operating systems have become the dominant algorithms that are ruling our lives and societies. This is causing widespread division, escalating violence and conflict, worsening resource scarcity, and irreversible harm to our planet.
The game's mission is to activate and become the upgrade codes for transforming the Moloch game dynamics through increasing levels of collaboration for solving complex challenges together. Only then can we succeed in creating a new and thriving planetary civilization in harmony with nature.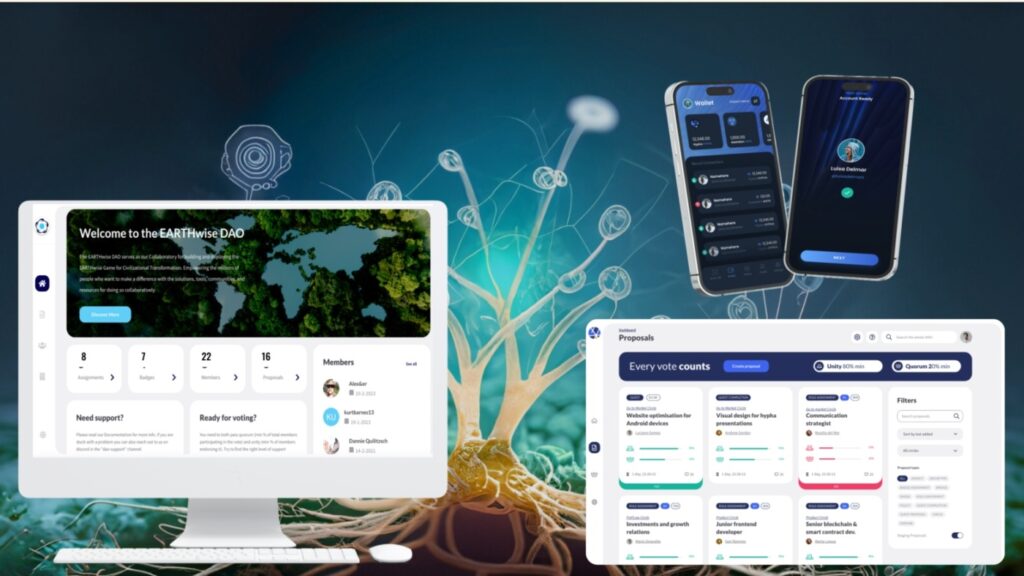 The EARTHwise Game blends cutting-edge GameFi and DeFi blockchain technologies with ethical AI integrations based on the EARTHwise Constitution. EARTHwise DAO is developing a unique gaming experience that will merge virtual and real-life quests and challenges. As the game addresses the massive coordination failures and misalignments of existing systems and institutions, Hypha's DAO tools are essential for enabling the real-life coordination and collaboration of players and all the teams working together to develop and deploy the game.
Hypha's purpose is to build and deploy technology solutions and services that enable evolutionary cultures, coordination, and collaboration for human thriving and planetary wellbeing, in harmony with nature. The purpose of the EARTHwise Game is to act as a "trojan horse" for the necessary personal, collective, and societal transformations that can shift our world from collapse to thriving. Hypha's tools and network capabilities enable society to create the necessary governance structures, alignment, and coordination for this massive undertaking. Furthermore, Hypha's tools make it possible to embed and enact the protocols and agreements of the EARTHwise Constitution, which is completely aligned with the Hypha DAO Constitution that became official by vote on July 10, 2023. Becoming a Hypha Network member also offers EARTHwise DAO advanced capabilities for expanding the in-game economies to real-life collaborative impact.
Blockchain-based game development is growing rapidly and becoming hugely popular as it can be designed to enable players to earn rewards and opportunities for solving real-world challenges. Hypha's DAO solutions offer a critical component for this rapidly growing movement.
Furthermore, by using a DAO to develop and deploy the game, EARTHwise DAO can offer empowering opportunities to all the teams that are making this happen, as well as the players for their contributions — through token rewards, voice input, and collective stewardship.
To summarize, EARTHwise DAO embarked on their DAO journey with Hypha for four reasons:
1. DAOs are community-focused and collectively managed by its members.
Rather than concentrating ownership into the hands of founders, directors, and investors, a DAO distributes ownership to a variety of stakeholders, including contributors, users, strategic partners, vendors, employees, and so on.
2. A DAO has a built-in transparent treasury for managing and distributing funds.
No single person has the authority to access it without the approval of the allocated team.
3. Decisions within the DAO are governed collectively through flexible governance styles.
EARTHwise DAO members can choose and adjust governance styles to ensure inclusive participation in decision-making so everyone has a voice in governance.
4. Trust arises from the transparency of the blockchain ledger.
All governance decisions and financial transactions are recorded on a blockchain ledger, which functions as a highly secure and decentralized online spreadsheet stored on distributed servers around the globe to guarantee its accuracy. In other words, transparency by "digital" design.
"The Hypha DAO tools empower our teams to work collaboratively, get compensated for their contributions, make value flows visible, decide together on priorities and distribution of resources and opportunities, and honor everyone's voice inclusively." — Dr. Anneloes Smitsman
Remember to sign up here to attend the upcoming free webinar with Anneloes and Hypha DAO members to discover more!
For more upcoming Hypha Network Spotlight features, subscribe to Hypha's newsletter and follow us on Twitter, LinkedIn, and YouTube. Interested to use Hypha's DAO toolkit to achieve similar accomplishments with your project? Sign up to our Beta Launch waitlist today.