Watch the full interview on YouTube.
RegenerateX is offering a regenerative business design program for cooperations and leaders, starting in January 2024. The program will also present Hypha's DAO tools and how RegenerateX DAO uses them to develop and deploy their community resources, insights, and connections for regenerative transformation. Sign up to attend here and register today for Hypha's Beta Launch here.
RegenerateX joined the Hypha Network this year with the belief that to shape our desired future, we must wholeheartedly commit, compost old expectations, embrace surprises and challenges, and reimagine what businesses and organizations can be. In this article, we'll share their experiences using Hypha's DAO platform to drive regenerative transformations for themselves, clients, partners, and daily interactions.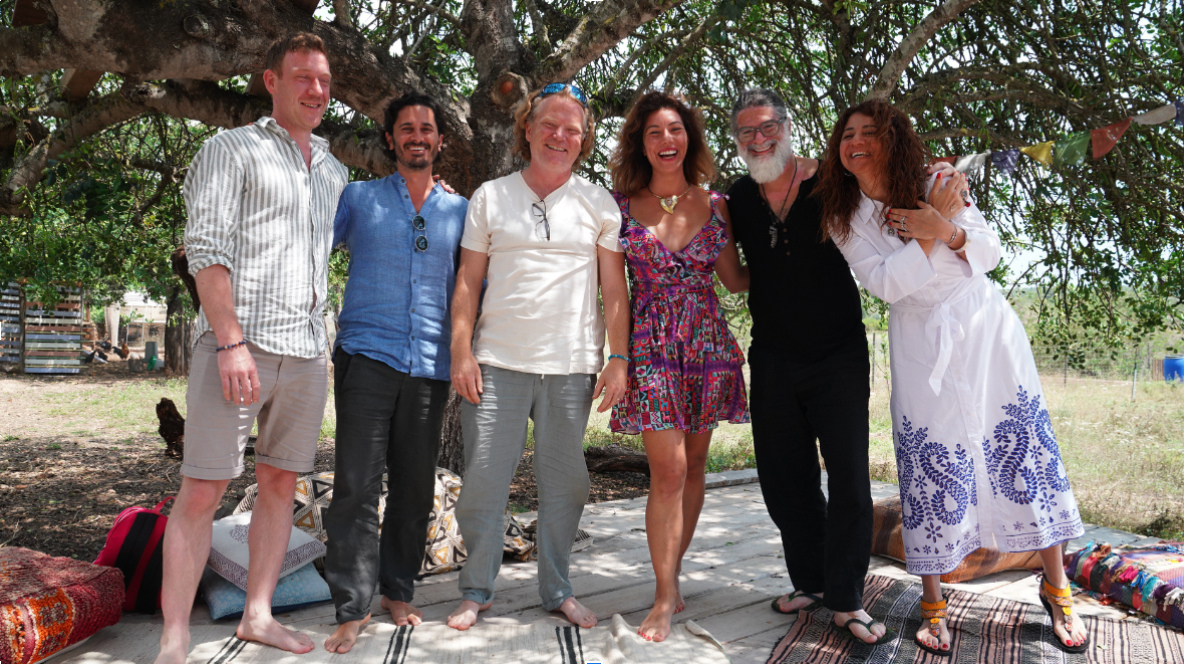 Hypha's Ronnie Xerxes Potel (second from right) attended the RegenerateX Ibiza event earlier this year.
Many of today's collaboration systems are constrained by siloed thinking and industry/country-based structures, preventing us from revitalizing unsustainable business practices. Consequently, exchanges of value, such as money, decision-making authority, and resources, remain confined within these outdated structures. To co-create better futures, we need to start thinking new. Of course, this doesn't happen alone! RegenerateX and Hypha are leading the charge when it comes to bringing leaders together to collaborate in new ways, factoring in everyone's unique values and ways of working. 
For RegenerateX Co-founder Canay Atalay, Hypha's DAO platform is not just a product; it's a platform that enables their regenerative transformation journey. Operating as a DAO allows their team to prototype, learn, and grow together with collaborators from all over the world. This aspect is crucial for global teams, as most know how bureaucracy and complexity of different systems and requirements can block project progress.
"I believe it is not just a responsibility, but a privilege for those who are not only excited about these futures but who have the literacy, understanding and the connections to step into these envisioned futures using such [DAO] technologies. We can see and open the pathways, keep on walking together and not leave anyone behind. This is exactly what I envision for myself and my children…actually for all the children of this planet to be liberated from what is no longer serving us." — Canay Atalay, RegenerateX Co-Founder

When starting their Hypha DAO journey, RegenerateX initially anticipated using a tool, but upon getting familiar with our platform, they quickly realized the platform was a gateway to something much bigger. Their team began contemplating basic organizational structures and frameworks, contemplating what to share, how to engage, and the significant role they each play in decision-making. From their perspective, this journey awakened their sense of humanity, emphasizing individual sovereignty in decision-making processes across various aspects of life, community, and work. What stood out the most in this process to RegenerateX was the inspiration found in the transformative conversations with Hypha's team throughout their onboarding process. 
"I think the real difference, like I see in everything, in every domain, is the people, people of Hypha. There is a core team who are not just thinking, but who are vibrating and beating with this love for humanity and life on a daily basis with such integrity to their values in service." — Canay Atalay, RegenerateX Co-Founder
As RegenerateX continues using and experimenting with Hypha's DAO platform, they realize a need to be much clearer regarding their organizational values and how these values are applied and communicated in every detail. Such transformation away from existing structures requires much integrity, and not just short-term, but mid-to-long-term thinking. In Canay's words: "It requires us to let go of the need to control and knee-jerk reaction to compete when it comes to business and value circulation. I'm still exploring with my partners, and enjoying the process so far."
For more Hypha Network Spotlight features, subscribe to Hypha's newsletter and follow us on Twitter, LinkedIn, and YouTube. Interested in using Hypha's DAO toolkit to witness similar transformations with your project? Sign up for our Beta Launch today. 
Would you like to join the RegenerateX community? Check out their events and experiences such as Heart Masters Ibiza and RegenerateX Ibiza Conference in May 2024, community events on their Linkedin & Instagram Live, with their weekly newsletter with 16K subscribers. They also offer Regenerative Business Design for corporations and regenerative leaders, as well as online programs such as The Heroines for womxn in business, Unconditional Men for men's work. Visit their website to learn more.